How we operate
The Customer Service and Display Team at Britannia will work with you to ensure you get the firework show you want. We do this by being approachable, listening to any concerns, and explaining everything without the use of industry jargon.
Example display layout
The Display Team will work with your venue to design the firing area. Below is an example of how a display will be set up.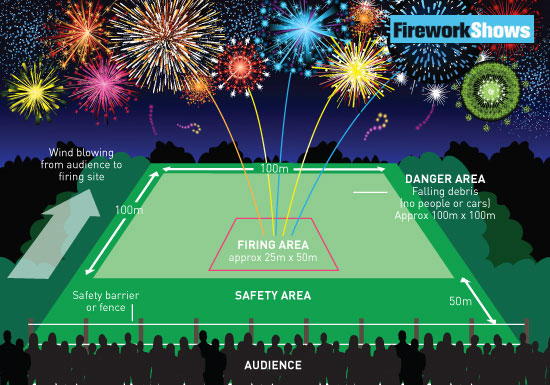 Locations
Our display packages are available all over the UK mainland at a fixed price with no hidden fees. Shows that are required in: Northern Ireland, Isle of Man, Isle of Wight, Isles of Scilly, Orkney and Shetlands, Hebrides and The Channel Islands will incur additional charges due to travel costs. These will be quoted and agreed in advance.
Staff
Our staff is key to the success of every show we deliver. They are responsible for your show, set-up and firing of your display as well as clean up. We invest heavily in training our staff so they can do the job effectively and safely.
We keep up to date with the latest innovations, products and equipment, and all our firers are fully trained and qualified to the British Pyrotechnists Association (PBA) exams which are accredited by City and Guilds.
Products
Our superior quality fireworks are bigger, brighter and less smokey than cheaper alternatives and this enhances the displays significantly. We source our products from Spain, Italy, Germany, Poland and China and the best UK manufacturers. We us Jorge Fireworks - one of the best brands available in the EU, as well as Europla, Hamex, Vulcan and other well known international brands. We pride ourselves on a large and extensive range of beautiful fireworks in a variety of interesting colours and patterns.
Health & safety
In the wrong hands fireworks can be dangerous, but in the right hands they can be absolutely stunning and beautiful and awe inspiring. We have a very vigorous approach to everything we do, not just on site at your display but also behind the scenes in our factory and storage magazines. We work hard to be neat, tidy and efficient and to never cut corners. We make the safety of our employees, firers and audiences our top priority.